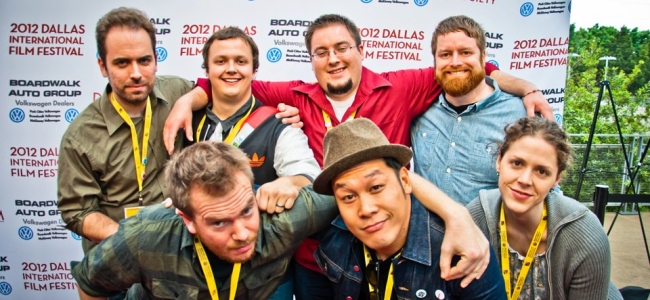 Since its world premiere at the Dallas International Film Festival this weekend, reviews have been pouring in for our film Cinema Six.
Film Threat: 5 Stars. I urge you, if you like to laugh, to find out where Cinema Six is playing next and go check it out […] It's quirky, awkward and naughty in all the right ways. It's an easy parallel to say that it reminded me of Clerks […] but when I make the comparison I'm thinking less of the plot and more of the way Kevin Smith created a rhythm to his profane dialogue that elevated the entire experience into iconic status. Cinema Six has a similar groove to its profanity and hilarity, and I can't praise that comic cadence enough. See the f**king film as soon as you can!

D Magazine: Go See It. It's quick, fun filmmaking at its finest […] It feels like a deeply personal film, but one that can be appreciated by anyone who's held a job just for the money. Cinema Six also reaches Departed levels of vulgarity and profanity, complete with defecation. In other words: it's pretty close to perfect.

IndieWire: Mark Potts and Cole Selix's slacker comedy Cinema Six resembles a movie theater-set version of Office Space with the same kind of raunchy humor and quarter-to-mid-life ennui. […] The film offers more than dirty jokes and profanity as some surprisingly serious moments pop in as well. Lead actor John Merriman handles comedy and drama with equal ease and the whole cast delivers with a fair share of absurd comedic moments.
More reviews after the jump…
Smells Like Screen Spirit: Very few comedies are consistently funny […] while also containing a strong, noteworthy narrative. Despite its sublime knack for obscenity and vulgarity, Cinema Six is a very deep film. […] I cannot recall a recent comedy that is as emotionally complex as Cinema Six. (I also never knew that hearing Barry Corbin discuss his sex life could be so damn hilarious!)

Art and Seek: Best Bet. This is the kind of self-reflexive movie that film festivals are built on […] the zingers between the co-workers are hilariously vile.

Pegasus News: The chemistry of the leads […] jumps off the screen as much as the outlandish, expletive-filled dialog that brings to mind films such as Superbad and Animal House. […] If you're craving truly realistic comedic narrative and have never worked at a theater, Cinema Six shows what life is like on the other side of the ticket booth.

PulpLizard Media: The film's strength are the talented actors that make you wonder "where did these guys come from?" and you instantly know it's only a matter of time before someone puts them in a Apatow film. The other strength is the screenplay. Potts and Selix make it look easy, but the inside scoop is that they work extremely hard to make entertaining films.